SBI Credit Card
Apply online for SBI Credit Card: Check your SBI Credit Card Eligibility ✓ Offers ✓ Fee charges ✓ Reward Points ✓ Apply Online instantly at IndiaLends.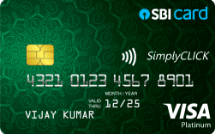 Joining fee: Rs.499 + applicable taxes
SimplyCLICK SBI Card
Save More on
Online Shopping
Fuel Surcharge
Get Amazon.in gift card worth Rs.500* on payment of Annual Fee of Rs. 499 +taxes.
Earn 10X Reward Points on online spends with exclusive partners: Apollo24X7, BookMyShow, Cleartrip, Eazydiner & Netmeds
Earn 5X Reward Points on all other online spends.
e-voucher worth Rs.2,000 on annual online spends of Rs.1 Lakh to Rs. 2Lakhs
1% fuel surcharge waiver for each transaction between Rs 500 & Rs 3000 (exclusive of GST, wherever applicable, & all other charges).
Simply wave your card at a secured reader and your transaction is done
Spend Rs 1,00,000 and get annual fee of Rs 499 reversed for your SimplyCLICK SBI card in the subsequent year.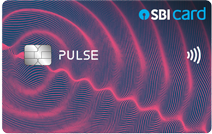 Joining fee: Rs. 1499 + Taxes
Pulse SBI CARD
Save More on
Fuel
Lounge Access
shopping
Get a Noise ColorFit Pulse 2 Max Smart Watch worth Rs. 5,999 on payment of joining fee.
Enjoy 1 year complimentary FITPASS PRO Membership and Netmeds, to be received every year, on card renewal
Enjoy 10 Reward Points per Rs. 100 spent on Chemist, Pharmacy, Dining and Movies spends and 2 Reward Points per Rs.100 spent on all your other spends.
Get Rs.1500 E-Voucher on achieving annual retails spends of Rs. 4 Lakhs
Avail Air Accident Cover of Rs. 50 Lakhs and Fraud Liability Insurance Cover of Rs. 1 lakh
Complimentary 8 Domestic Lounge visits and Complimentary Priority Pass Membership worth US $99 for first two years of cardholder membership.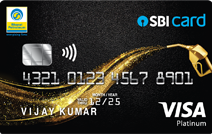 Joining fee: Rs. 499 + Taxes
BPCL SBI CARD
Save More on
Fuel
utilities
Get 2,000 Activation Bonus Reward Points worth Rs. 500 on payment of joining fee
4.25% Valueback ~ 13X* Reward Points on fuel purchases at BPCL petrol pumps. Maximum 1300 Reward Points per billing cycle
Reward Points will be credited after 20 days of the payment of joining fee and the same can be redeemed instantly against fuel purchase at BPCL outlets or at Shop n Smile rewards catalogue.
5X Reward Points on every ? 100 spent at Groceries, Departmental Stores, Movies & Dining
Get 1X Rward Point for every Rs. 100 spent on non-fuel retail purchases.
Maximum surcharge waiver of Rs. 100 in a billing cycle, which is equivalent to an Annual Savings of Rs.1200.
3.25% + 1% Fuel surcharge waiver on every BPCL transaction upto ? 4000 (exclusive of GST and other charges).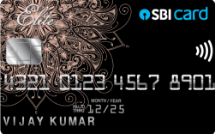 SBI Card ELITE
Save More on
Dining
Movie
Welcome e-Gift Voucher worth Rs. 5,000 on joining
Get free movie tickets worth Rs. 6,000 every year
Earn upto 50,000 Bonus Reward Points worth Rs. 12,500/year
Complimentary membership to Club Vistara and Trident Privilege program
With complimentary Club Vistara Silver membership, get 1 complimentary Upgrade Voucher and 9 Club Vistara Points for every Rs. 100 spent on Vistara flights
6 Complientary Airport Lounge Visits per calender and 2 complimentary Domestic Airport Lounge visits every quarter in India
SBI Card ELITE offers you the privilege of the lowest Foreign Currency Mark-up Charge of 1.99% on International usage.
* Product features and specification are subject to change as per the company policy.