SBI Credit Card
Apply online for SBI Credit Card: Check your SBI Credit Card Eligibility ✓ Offers ✓ Fee charges ✓ Reward Points ✓ Apply Online instantly at IndiaLends.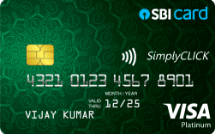 Joining fee: Rs.499 + applicable taxes
SimplyCLICK SBI Card
Save More on
Online Shopping
Fuel Surcharge
Amazon.in gift card worth Rs.500 on joining
Earn 10x rewards on online spends with exclusive partners - Amazon / Apollo24X7/ BookMyShow / Cleartrip / Eazydiner/ Lenskart / Netmeds
Earn 5x rewards on all other online spends and 1 reward point on other spends
E-voucher worth Rs. 2,000 each on annual online spends of Rs. 1 Lakh & Rs. 2 Lakhs
1% Fuel surcharge waiver across all petrol pumps
Annual fees reversal on spendings of Rs.1 lakh in an anniversary year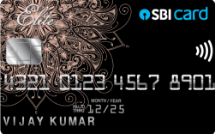 SBI Card ELITE
Save More on
Dining
Movie
Welcome e-Gift Voucher worth Rs.5,000
Get 10x Reward Points on Dining, Departmental stores, Grocery and International spends
Earn 2 Reward Points per Rs.100 on all other spends
Free Movie Tickets worth Rs.6,000 every year
Transaction valid for at least 2 tickets per booking per month. Maximum discount is Rs.250/ticket for 2 tickets only. Convenience Fee would be chargeable
a) Complimentary membership to Club Vistara and Trident privilege program b) Spend Based Reversal on Annual Fee on spends of Rs.10 Lakhs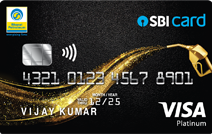 Joining fee: Rs. 499 + Taxes
BPCL SBI CARD
Save More on
Fuel
rewards
utilities
Get 2,000 Activation Bonus Reward Points worth Rs. 500 as a welcome gift
Contactless Advantage
Worldwide Acceptance
Balance Transfer on EMI
Easy Money Facility
convert your transactions in easy monthly installments. Make any purchase for Rs. 2,500 or more using your BPCL SBI Card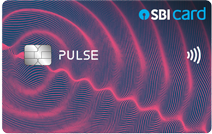 Joining fee: Rs. 1499 + Taxes
Pulse SBI CARD
Save More on
Fuel
Lounge Access
shopping
Enjoy 10 Reward Points per Rs.100 spent on Chemist, Pharmacy, Dining and Movies
Enjoy 1 year FITPASS PRO and Netmeds First complimentary memberships subject to payment of Joining Fee and min. one retail transaction in the first year
Eligible for 8 Domestic Lounge access in a year
Get Rs.1500 voucher on achieving retail spends of Rs. 4 lakh in a year
Get annual membership fee reversal from second year of your subscription
Get complimentary Air Accident Liability Cover of Rs. 50 Lakhs
Get complimentary credit card Fraud Liability Cover of Rs.1 lakh
Worldwide Acceptance
* Product features and specification are subject to change as per the company policy.